There was outrage in the sleepy County Tyrone town of Newtownstewart today after it emerged that the National Trust had removed the letters of the word Easter from its road-sign.
The wanton act of vandalism was spotted by a passing motorist who missed his turn off after thinking he was somewhere called Nwtownwt, and ended up driving on to Strabane. "That was the worst thing about it, to be honest," he told us later. "No one should accidentally end up in Strabane."
The driver duly raised the alarm, and a crowd of angry residents gathered in the town centre where a reporter from the Daily Telegraph told them that the National Trust was to blame.
The Ulster Fry understands that the townsfolk considered marching to the nearest Trust property in protest, but that turned out to be Gray's Printers in Strabane and no one wanted to go there. After a brief discussion they set fire to some of that nice National Trust soap instead.
The Archbishop of Canterbury soon waded into the argument. "This is a blatant attempt to airbrush our Christian Heritage from things with the letters of Easter in them," he told the BBC. "Weather forecasters will be talking about Southly winds instead of Southeasterly – even the forecasters themselves will be called 'weather forcs'."
The furore comes after the Daily Telegraph invented a similar row this morning, accusing the Trust of dropping the name of the Christian festival from its annual Easter Egg hunt – even though it hadn't.
"We're just going to keep making up this kind of shite and hope some of it sticks," said the paper's editor. "Sure it's quare craic, even Theresa May waded into this one."
We tried to contact the National Trust but they were all condemned to an eternity in hell.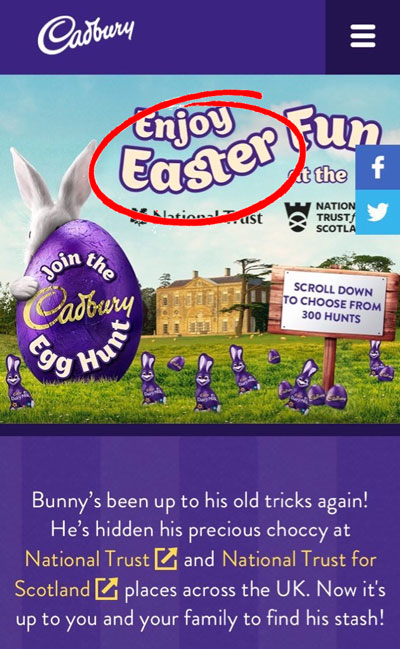 Comments
comments