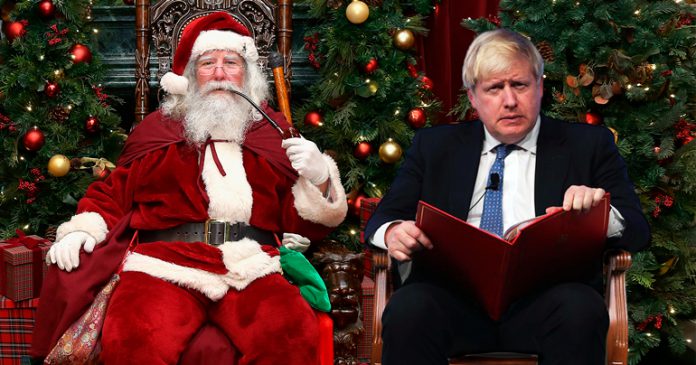 Newly elected UK Prime Minister Boris Johnson is celebrating a "massive trade deal" after successful talks with Santa Claus.
The Ulster Fry understands that the two men met in the controversial North Pole President's luxurious grotto in Castlecourt shopping centre earlier this afternoon.
"It wasn't an easy deal," said a Downing Street spokesman, "After a plenary session with the President's elf advisers, the Prime Minister queued for over an hour to get 'face-time' with Mr Claus himself. Then, the talks began in earnest."
Once inside, Mr Johnson spent over 5 minutes striking what his spokesman describes as a "far reaching strategic trade deal."
"Everything was on the table, or around the tree at least," he explained. "Mr Claus demanded unfettered access to UK markets for North Pole toy manufacturers. In return, Boris agreed to leave some milk and biscuits by the chimney on Christmas Eve, plus a carrot for Rudolph."
The talks almost broke down when Mr Johnson was asked if he'd been a good boy in 2019. When he claimed he had, President Claus produced a 'naughty dossier', saying it showed that Mr Johnson had told several fibs throughout the year. Fortunately the Prime Minister pulled a face and looked sheepish, immediately regaining the trust of the room.
On conclusion of the talks, the two leaders shared a photograph, and President Claus presented Mr Johnson with an elaborately gift wrapped selection box.
Speaking outside the grotto, the Prime Minister hailed his first successful trade negotiation.
"I have in my hand a piece of paper, wrapped around a box of chocolate bars, which proves that the UK can be a successful trading nation after Brexit," he claimed, "and all I had to do was pay that auld boy a tenner."
Comments
comments