---
Long before Norn Iron became Westeros, horror movie directors have flocked to the Province to make scary movies. In this Halloween special edition we showcase our favourite 13 horror movies that were made here.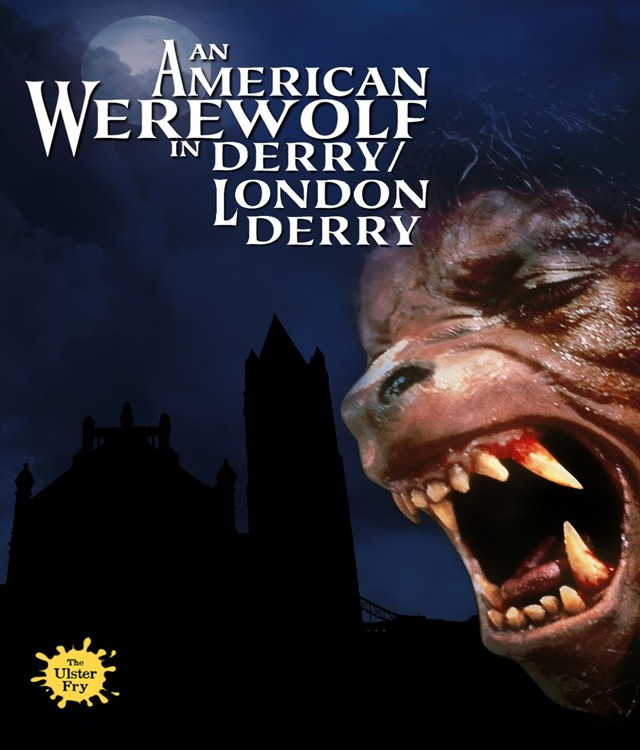 An American Werewolf in Derry/Londonderry
Horror/Comedy: A young American tourist finds himself transformed into a Werewolf whilst visiting the Maiden City, after accidentally referring to Londonderry in the Bogside Inn.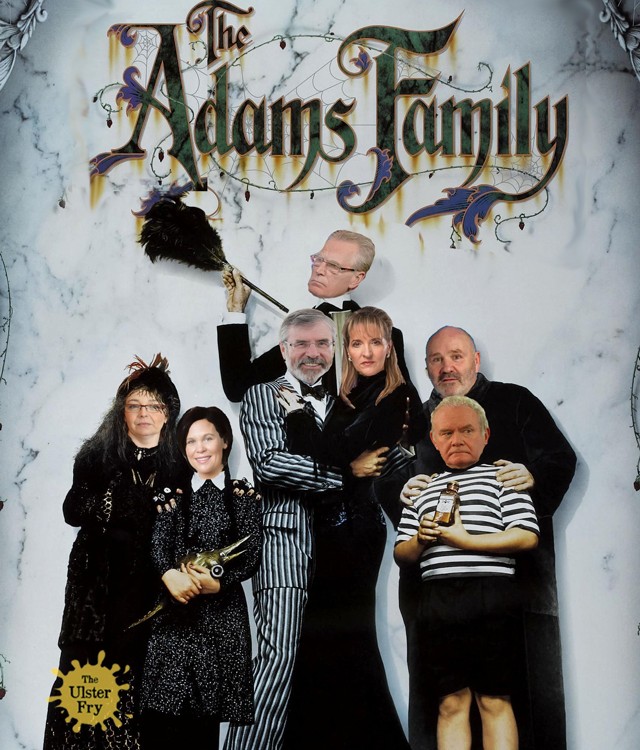 The Adams Family
Gerry 'Gomez' Adams and Morticia Anderson are the heads of the movie world's strangest family. Featuring an array of acclaimed horror actors including Caral ni Chuilin as the dishevelled Grandmama, Gerry Kelly as Lurch and Alex Maskey as Uncle Fester. A sequel, Adams Family Values, bombed (at) the box office.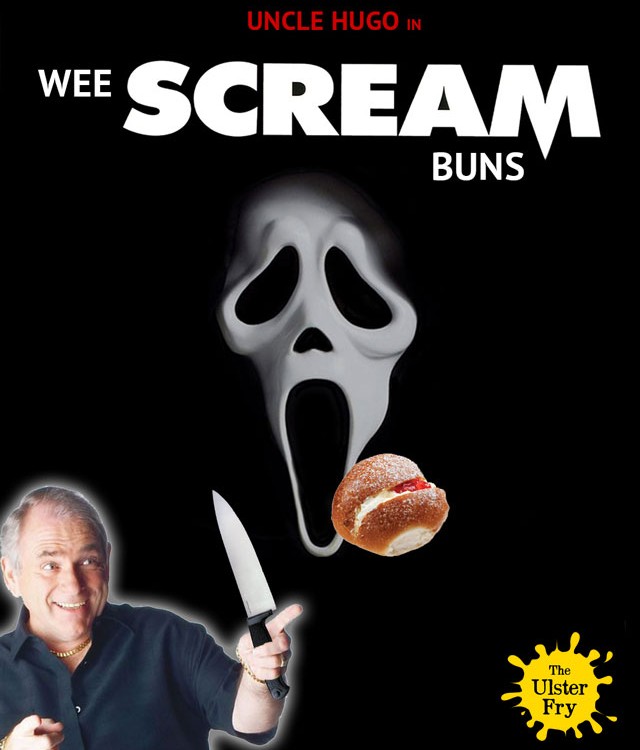 Wee SCREAM Buns
"Hello Sydney, do you like scary movies?"... "Well skiddle dee, you've dialled the wrong number sur! Sure I'm in Strabane, not Australia!" Follow Uncle Hugo as he kills dozens of people with kindness by force feeding them cream buns and playing oul Charlie Landsborough records.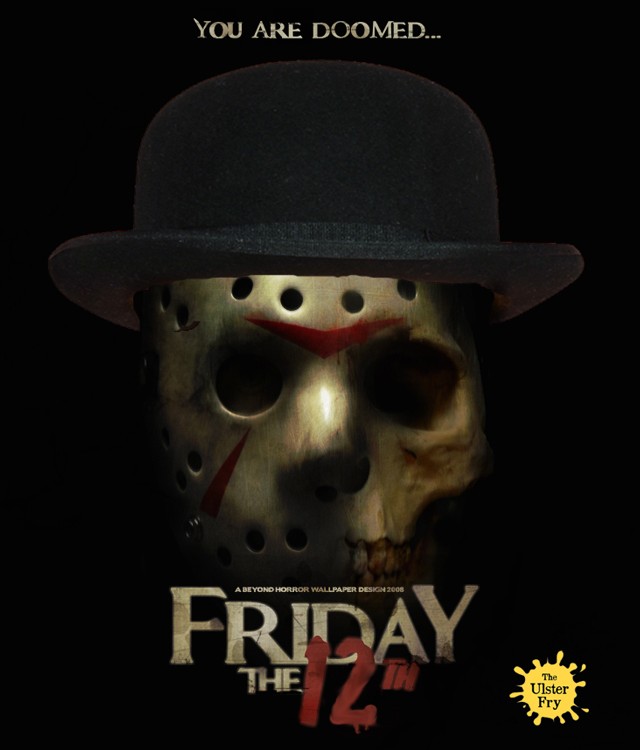 Friday the 12th
Classic slasher movie made in 1690: Jason Voorhees returns from the dead to wreak havoc with a ceremonial sword at the annual Twelfth of July parades. A very influential film which spawned over 300 sequels, although the first, Friday the 13th, was panned by the critics for its Sham Fight scenes.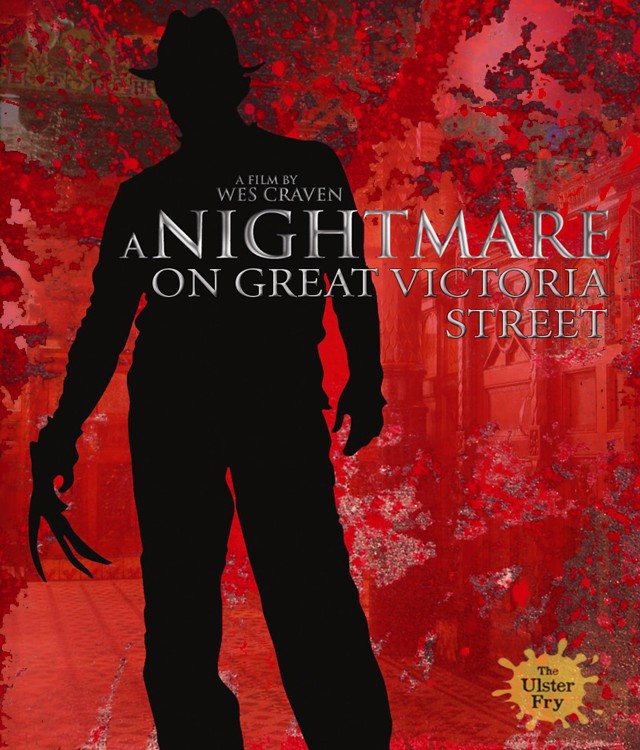 Nightmare on Great Victoria Street
Another slasher. Freddy Kruger loses the run of himself on Great Victoria Street after missing the last bus home because the driver made him get a ticket from the booking office.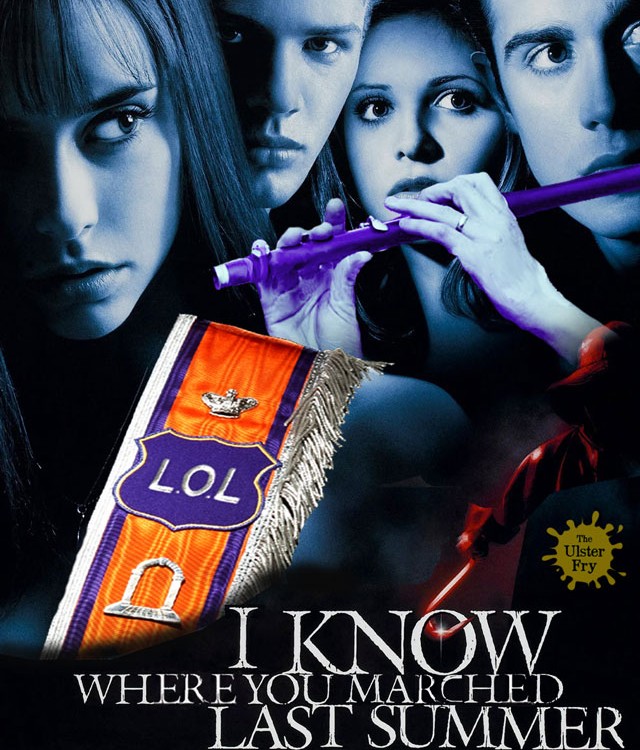 I Know Where You Marched Last Summer
Northern Ireland's first 'sasher' movie, and still the best. East Belfast teenager, Julie, falls for handsome Falls Road republican, Ray to the backdrop of Ulster's mid 90s. But as she tries to keep their love together, a dark secret from her past might ruin everything.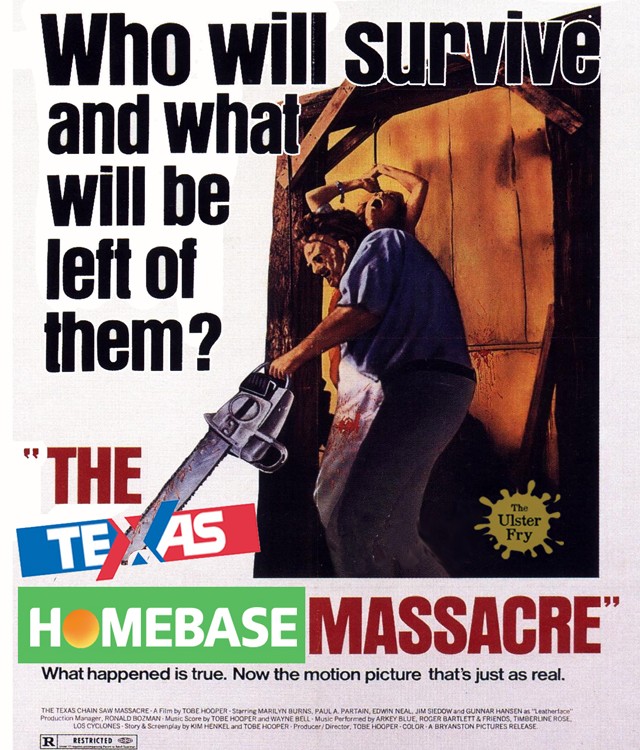 The Texas-Homebase Massacre
One of the most influential horror movies of all time. A group of friends get lost in a DIY store populated by cannibal staff, including vicious store manager, Leathersofa.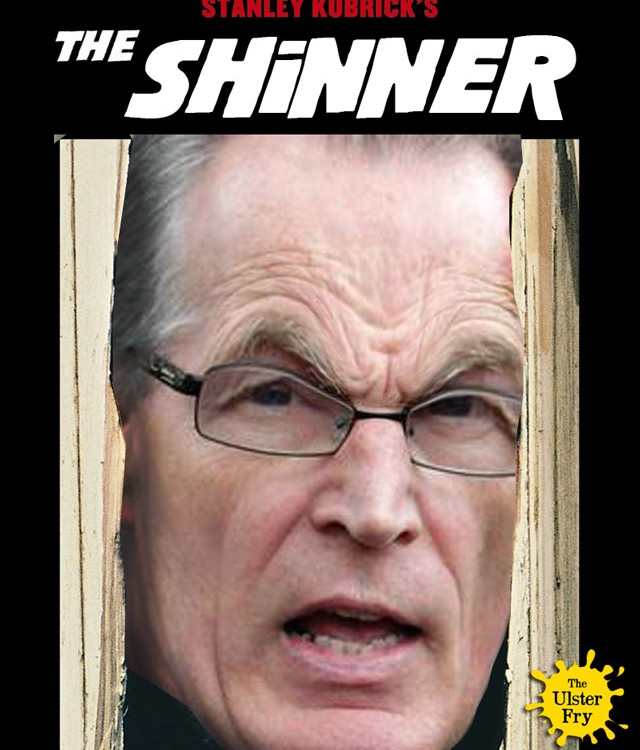 The Shinner
Charged with looking after a West Belfast B&B during the winter of 1980, Gerry Kelly slowly begins to loose his grip on reality after becoming obsessed with 70's grand national winner, Red Rum. The iconic bathroom door scene was actually ad-libbed in a long queue for the bog, with director Stanley Kubrick deciding to cut his final line "Pure busting for a shite here big lad. Any chance?"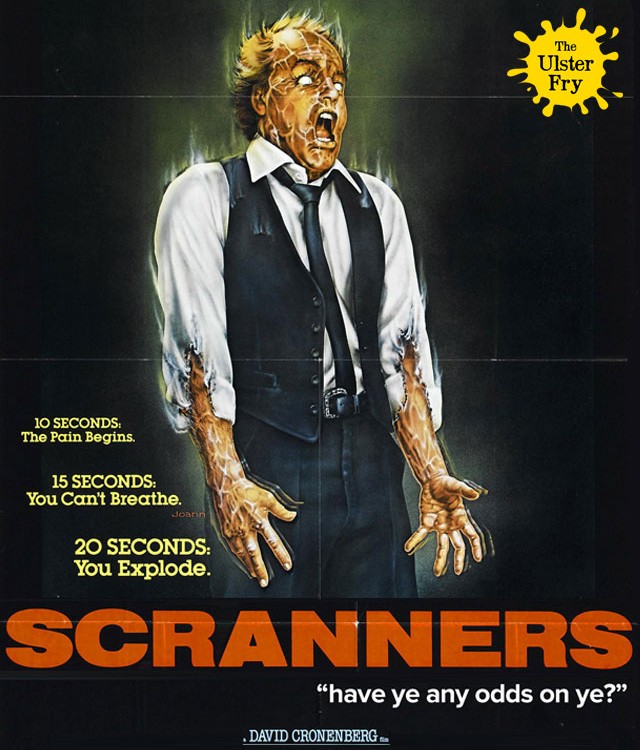 Scranners
David Cronenberg's cult psychological thriller follows the journey of lead character, Ruth, as she tries to walk through Belfast city centre during rush hour amidst a sea of street drinkers, homeless people, charity collectors and big issue vendors. Can she make it home before she cracks the bap and clocks someone?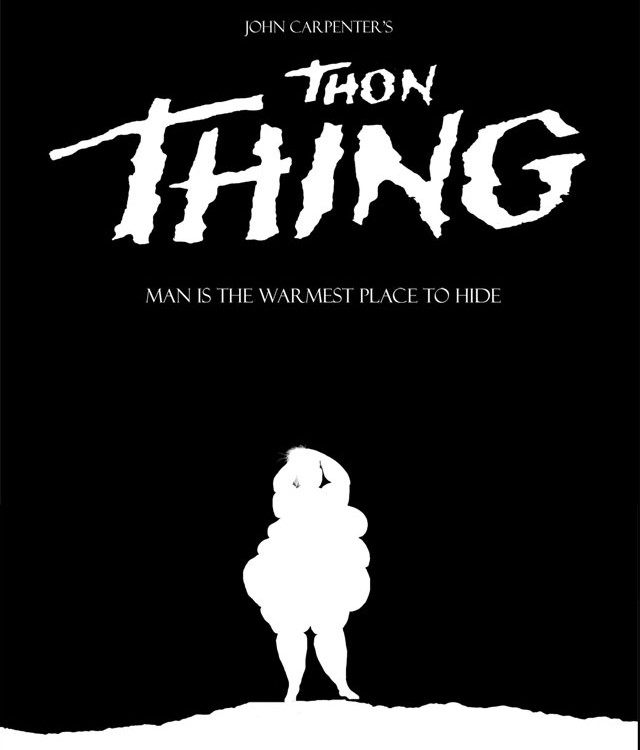 Thon Thing
Set to the icy backdrop of a harsh 1980s Ulster winter, a team of scientists battle for their lives as a strange alien creature invades their camp and starts assuming their identities. Will they discover the creatures weakness, it's inability to pronounce 'H' properly before it's too late?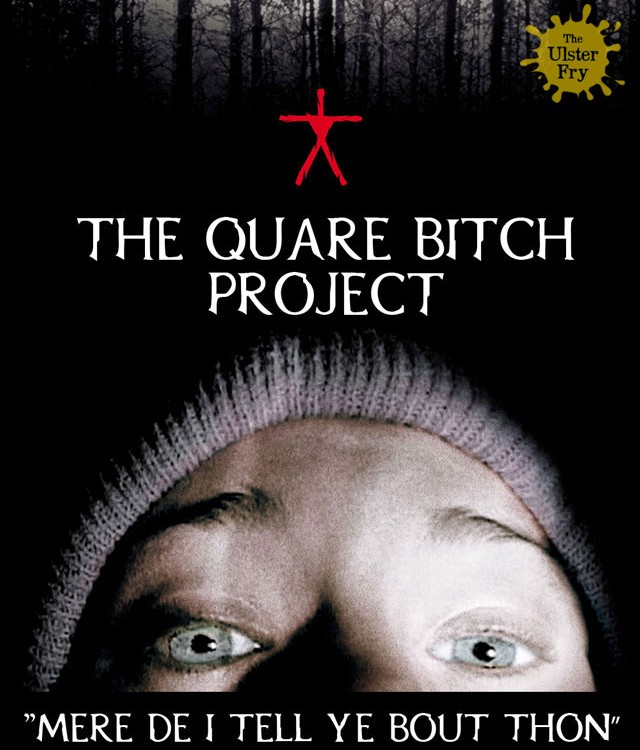 The Quare Bitch Project
A group of unsuspecting female campers get trapped in a spiral of hateful conversation deep in the woods. Watch in horror as everyone they know gets repeatedly stabbed in the back.
Paramilitary Activity
Borrowed from the DVD collection of our sister site, Pure Derry, this chilling hidden camera documentary captures creepy paramilitaries appearing in peoples bedrooms looking for drug money and issuing death threats.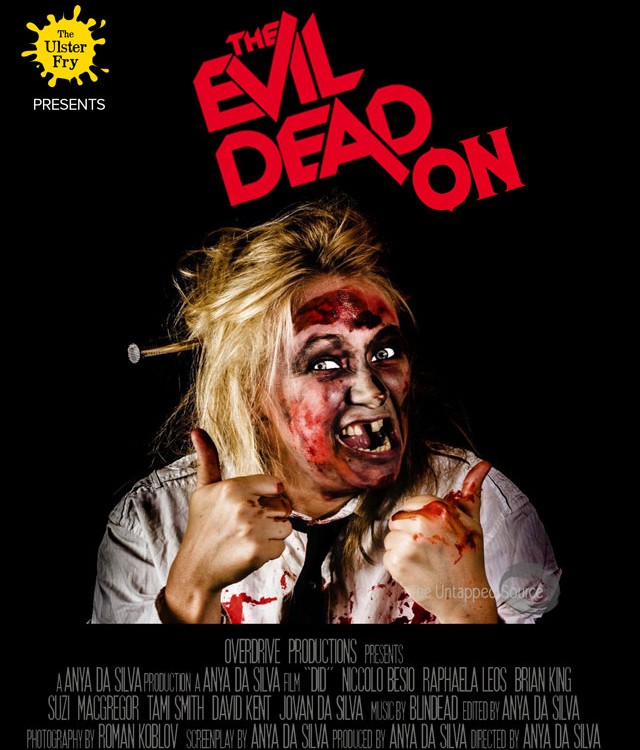 The Evil Dead On
In a world overrun with movies and tv shows about the dead coming back to life to eat you, The Evil Dead On spins the genre on its head and introduces a new strain of zombie that are pure sound. One bite from these boyos and you'll be listlessly shuffling through the streets helping old ladies cross the road, throwing buskers your spare change and giving tourists useful directions. You aren't just dead, you're dead on!
Comments
comments