It's notoriously difficult to work out how to get a drink over Easter here, so we thought we'd help you out. Just print off this handy licensing laws guide and stick it on your fridge.
Friday: If you're in work today hopefully you used public transport, allowing you to drink on way in. Bosses frown on alcohol in the workplace so drink it on the toilet.  The pubs can't serve you alcohol at lunchtime so drink Buckfast in a park then phone in sick for the rest of the day. If you live in a border county head inland or you'll be deluged with Free Staters fleeing their even more archaic licensing laws.
Opening hours: The pubs open at 6 or something but only to serve members of 80s pop bands such Bananarama and Tears for Fears. Bar staff must wear hats. No alcohol can be served between 2pm and 1am although Baileys may be consumed if the bar has a Y in the name.
Saturday: Pubs tend to close early so try to get off to a flyer. Secrete a bottle of whiskey under the bed and get a few in during Saturday Kitchen. Then go to the pub as normal, around 12.
Opening Hours: Pubs open at usual time but may only serve crisps to foreigners. Adults must be accompanied by a child and smoking is advisable. Bars close again at 6pm to allow everyone to pray to Ant and Dec but can reopen during the football. No jeans.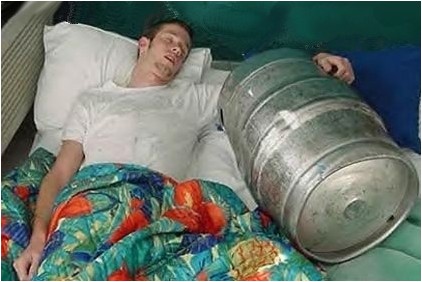 Sunday: It's important to remember that off-licenses are shut today so have a well stocked fridge. Being drunk is compulsory in daylight hours but anyone found consuming alcohol after dark will be arrested by police, who will also be drunk.
Opening hours: Pubs must close during Songs of Praise, and at all other time may only serve drinks with vaguely religious names such as San Miguel and St Brendan's.
Monday: Everyone makes up for precious hours lost drinking beer in a pub by going to see Oasis tribute bands and drinking shots, despite hating both.
Opening Hours: Back to normal, but you'll be lucky to remember anything after 11pm.
Tuesday: Pubs are open as normal, you may still be off work and might even have money in your bank account. Unfortunately you left your wallet in the back of a taxi, only have one shoe and keep puking in the mop bucket. Probably just stay in with a carry out tonight.
Comments
comments