"Everything was against us," said a furious Manchester United manager Louis van Gaal last night after what he described as "a very disappointing performance."
His angry reaction followed a visit to his granddaughter Famke's nursery school, where the Dutchman watched sternly from the sidelines during class playtime. Afterwards Van Gaal said that he was 'still unimpressed' by the 'balance' of the group, despite several months of playing together. "We have the top children, and the best play facilities in the country, but the results in the ball pit speak for themselvse." He singled out recent loan signing Anika Sorenson for particular criticism, with renewed speculation that she could be put on the play-school transfer list this summer after her sloppy colouring cost the children precious stars on the class reward chart.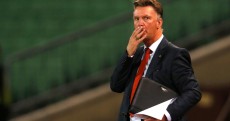 'Too many playmakers' and 'often going missing at the back' wrote the Dutch master in a huge 1980's notebook during recess this morning. Van Gaal, whose iPad delivery from Amazon is now five years late, is reportedly concerned that individual egos are disrupting the group dynamic. 'Everyone wants the teapot – but no one wants to pass the teapot' he told play assistants in the staffroom over lunch.
Even when the group did pass the teapot successfully, the former Barcelona and Bayern boss noted concerns that the end product 'lacked any substance'.
A huge summer clear out is now planned, with the school board expected to bring in a new younger group – who they hope will play for school uniform – not just the lunch money.
Later that evening Van Gaal's grown up charges Manchester United battled to a scoreless FA Cup draw against lowly Cambridge, and his grandaughter has been linked with a move to Bexton Primary.
Comments
comments