The Department of Culture, Arts and Leisure has unveiled a new fund to support the replacement of Troubles related wall murals around the country with new, positive images.
Announcing the scheme, actor Liam Neeson told reporters that these kind of images must be consigned to the past. "We need to promote an upbeat, forward thinking North of Ireland," he growled. "Murals which celebrate or promote violence will be painted over, replaced with images that show the valued contribution we have made, and still make, to the culture of the wider world."
To date attempts at positive imagry have mainly consisted of paintings of a dead alcoholic footballer, a dead alcoholic snooker player and a big ship that sank once, but the new murals will instead portray the Northern Ireland of today.
Among those slated for a revamp is the "Prepared for Peace, Ready for War" mural in the North Belfast's Loyalist Mount Vernon estate. The image will be overpainted next week to allow work to begin on one of  TV favourite Angie Phillips, fittingly presenting the weather for the Twelfth of July. The only issue under debate with residents is if she should be predicting prolonged sunshine or squally showers, with some fearing that the latter would call into question whether God is, in fact, a Protestant.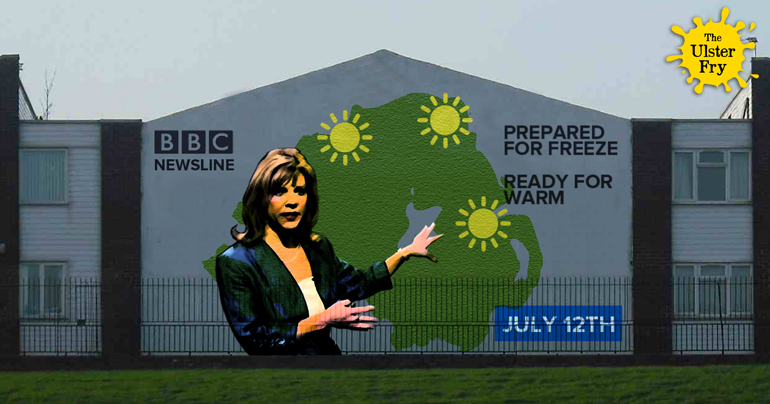 A mural depicting IRA members on the Whiterock Road in West Belfast will also be painted over, with one celebrating our unique contribution to the world of food and drink. "We're planning on one of a Pastie Bap," said local artist Finbar Trout, "perhaps with a can of Harp. It's a much more inclusive image altogether, sure who doesn't like a Pastie Bap and a rake of Harp at the weekend?"
Not to be outdone work has already been completed on a replacement for the famous "Free Derry Corner" mural in Derry/Londonderry/Foyle/up there. Mirroring the "Hands across the Divide" statue which stands at the end of the city's Craigavon Bridge, the new painting portrays Northern Ireland's Mr Tayto reaching out a hand towards that of his cross-border counterpart.
"If these two great enemies can find common ground," says former MLA Pat Ramsay, "perhaps there is hope for us all."
Comments
comments