After years of wondering if his Ma would ever hurry up and retire, Prince Charles finally got his head into the Crown today after he dropped into the world famous Belfast pub for a pint of Guinness and a flutter on the horses.
Earlier the Royal couple had visited St Patrick's Church on Donegall Street, where they had the unusual experience of being greeted by Sinn Fein Deputy First Minister Martin McGuinness, whilst his party colleague Gerry Kelly took part in a protest across the road. "How very Irish," Camilla was heard to say as she left her husband's side to take a placard alongside Mr Kelly.
It is understood that Charles asked Mr McGuinness for directions to the historic Crown Bar, however soon after the pair were 'surprised' to find themselves standing outside the Lower Falls Social Club instead. In a statement released later, Sinn Fein said that it was an 'honest mistake' and that 'The Deputy First Minister didn't recognise The Crown'.
Thankfully a cab driver came to their rescue, kindly transporting them across town – after an entirely objective and historically accurate 'black taxi tour' of West Belfast. This, of course, offered a totally unbiased account of the troubles in Northern Ireland, including a full run down on who's fault it was. Reports say it was themuns, but ussuns are rumoured to have been involved.
Finally arriving at the Crown Liquor Saloon, Prince Charles wasted no time in revelling in the opulence of the historic bar, ordering a pint of Guinness, two shots of sambucca and a fish, chip and mushy peas. Looking relaxed whilst talking to local punters, he reportedly stuck a fiver on a horse called 'Saucy Minx' running in the 14:40 at Goodwood. "Aye sadly it came in second" revealed bar manager Jim Optic. "But he got a quare sweat on and even roared 'come on de f**k ya saucy wee minx' as they neared the finish line, although Camilla seemed to think that meant it was her shout at the bar."
"If he was disappointed at losing he didn't show it, but then again, herself had just nabbed them a booth after some people left. It's not everyone gets a booth in here ye know…  most folk have to stand. But fair play to Camilla, she just fired her coat in and called 'dibs' on it. Thon group of girls were pure raging though, cos they were here first."
"Anyway, they are still in there now, skulling pints and having the craic," he revealed as he pointed out two Royal guards standing each side of the snug.
"Apparently they are headed to Thompson's Garage later."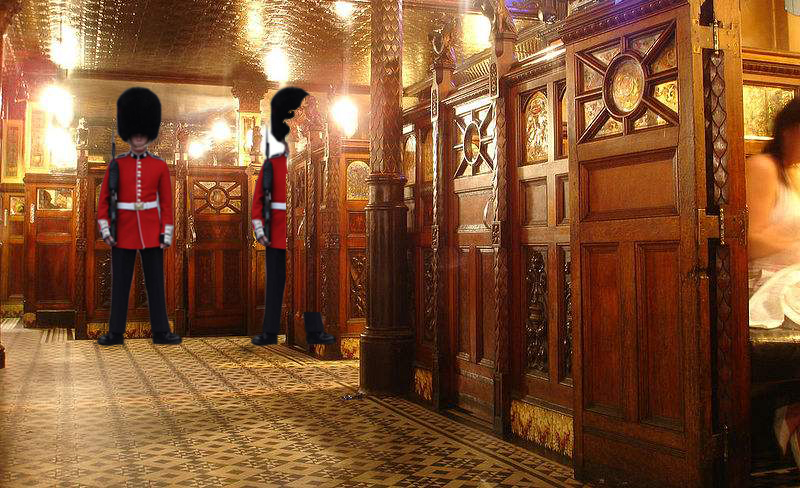 Comments
comments