Former South Antrim MP, the Reverend William McCrea, has stunned the world of pop music by scooping a late wild card entry to the Eurovision Song Contest, after claiming that he is representing the little-known EU state "The Loyalist People's Republic of Ballymena, Hi."
The Rev. McCrea has fallen on hard times recently after losing his Westminster seat at the last election. The shock defeat has left him struggling financially, with only his second job as a gospel singer and his third job as a preacher to supplement his meagre MP's pension. Now, almost destitute after two weeks of being unable to claim expenses, Rev. McCrea has decided to take matters into his own hands, and embark on a pop career.
According to close friend Sir Bob Geldof, the ex-MP won't be moving far from his gospel roots.  "Aye Willie wanted to go for a spiritual number," Sir Bob explained, "I initially suggested Iron Maiden's '666 – The number of the Beast', however in the end he opted for a cover of the Smith's classic 'Heaven Knows I'm Miserable now', as the lyrics speak to him in his new found troubles."
"Aye, poor auld Willie, he was looking for a job, and then he found a job, but Heaven knows he's miserable now."
We asked Bob if the Rev. McCrea would be phased by appearing on the big stage in Vienna. "Not at all!" said the former Boomtown Rats front man, "sure Willie has shared a stage with some of the biggest names in entertainment, The Rev Dr Big Ian, for example, and that boy we named our band after – watchyamaycallhim – King Rat."
Though unavailable for comment, a source close to Willie did give us a statement in return for an appearance fee. Willie's twin brother, Billie McCrea, told us that the Reverend was heading to Callum Best International Airport 'right after this meeting', to catch the last flight to Austria. "Sadly there were no direct flights left to Vienna though, so he's gonna fly into Melbourne and then take a bus the rest of the way." revealed Billie. "He can't wait to see Vienna though. It's been a life long dream of his to take a gondola ride through the city's famous waterways whilst singing into a Cornetto."
Willy McCrea's new single is available from all god fearing record shops next week, or on download from the ayeTunes store.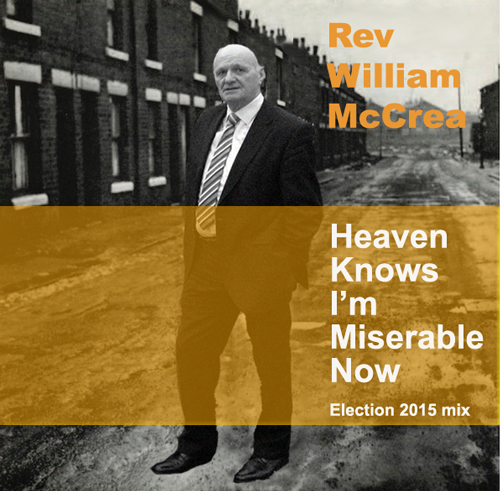 Comments
comments