As regular readers will know, we here at the Ulster Fry are always keen to do our bit to help the local tourist trade. We are also fond of roundabouts.
So, having brought you the Top 10 places to get clean soaked, and revealed the existence of an Amazonian tribe on a roundabout in Craigavon, we thought we'd combine these two interests and provide visitors with THE essential guide to best roundabouts in Northern Ireland.
Who needs the Giant's Causeway when you can marvel at the mighty creation that is Sandyknowes……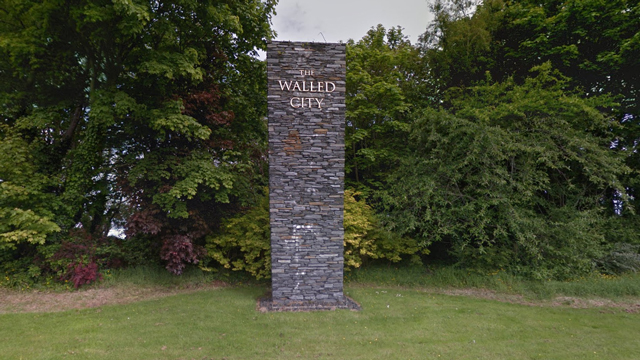 10. Altnagelvin, Derry/Londonderry
"A man who is tired of London is tired of life," wrote Dr Johnson. In Derry/Londonderry some folk are so tired of it they have to put "The Walled City" on the big sign that welcomes visitors cos they can't decide on name. This causes much confusion, with many tourists thinking that they've arrived in either the ancient city of Jericho or the Maltese capital Valletta. Such thoughts are soon dispelled when they pass this colossal roundabout and find themselves in Lisnagelvin Shopping Centre.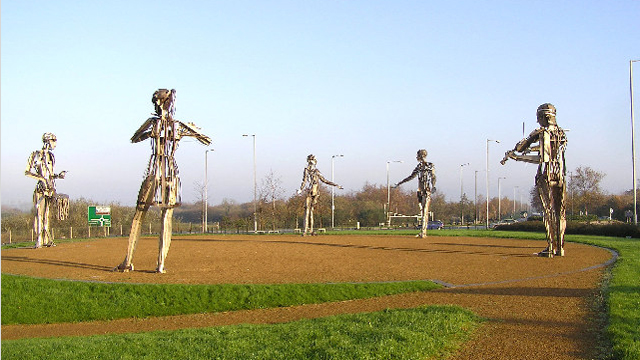 9. Lifford Road, Strabane
If you're unfortunate enough to find yourself in Strabane, the chances are you'll want to find a way out, most likely to buy some cheap diesel over the border. As you approach the Lifford Road roundabout you'll be greeted by these magnificent statues. The locals affectionately call them "The Tinnies", though they may hold less affection towards them if they realised that the metal musicians are playing the Sash, just to wind them up.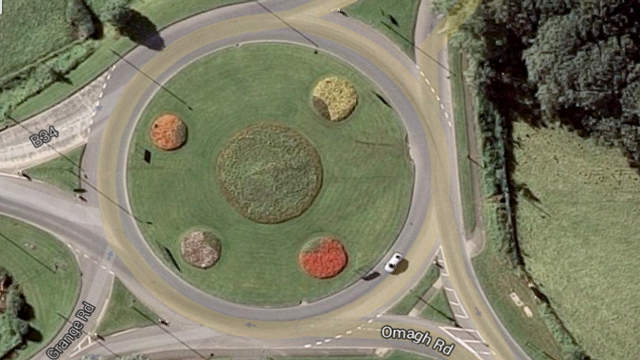 8. Ballygawley Roundabout, somewhere West of the Bann
"Here be dragons...." For folk from Belfast, the Ballygawley roundabout is the edge of the known universe, with untold horrors lying beyond. Travellers venturing further west are rumoured to have been eaten by the natives, something which helps to explain why these distant lands are always completely forgotten when it comes to Stormont funding. Despite this, it is a remarkably beautiful roundabout, with its almost perfectly circular form accentuated by the flowerbed mini-roundabouts within. Best appreciated from a helicopter, flying east.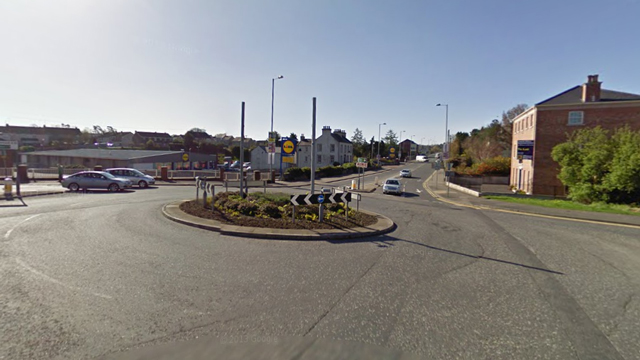 7. The one at the top of the town, Banbridge
This may look like a run of the mill mini-roundabout, but this is a site steeped in history. King James I tied his horse to this roundabout on the way to the Boyne, before stopping off in the Downshire Hotel for a bit of late night drinking. Later, during the French invasion of Banbridge in 1798, a detachment of the Inniskilling Fusiliers held this roundabout for over 3 days against overwhelming odds. It also features in the original Star Wars trilogy, though no one is sure where.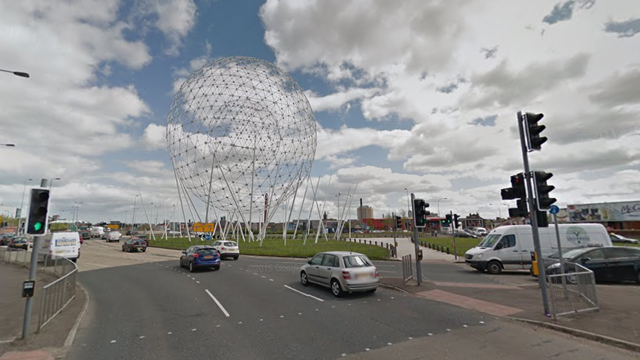 6. The Balls on the Falls
Is this Northern Ireland's biggest piece of public art? We don't know, because we can't be arsed researching it, but it might be. The Balls on the Falls roundabout is a complex affair which forces drivers leaving the Westlink to choose between the Falls and the Donegall Road, something which makes the convenient Royal Victoria Hospital an attractive option. It does look class at night mind you, if you're brave enough to visit after dark.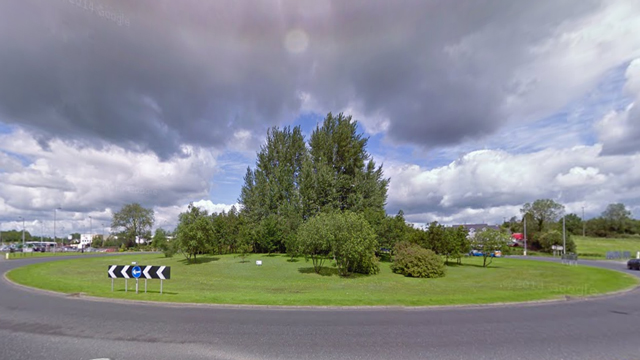 5. Castledawson Roundabout
"Magherafelt to the left of me, Castledawson to the right, Here I am......" When they wrote these lyrics in 1972, the band Stealers Wheel were clearly "stuck in the middle" of the Castledawson roundabout, travelling from Belfast most likely, as otherwise the two towns would have been the other way round. A magnificent example of the roundabout designer's art, almost perfectly spherical, with added bush interest and the bonus of a convenient KFC. Well worth a visit.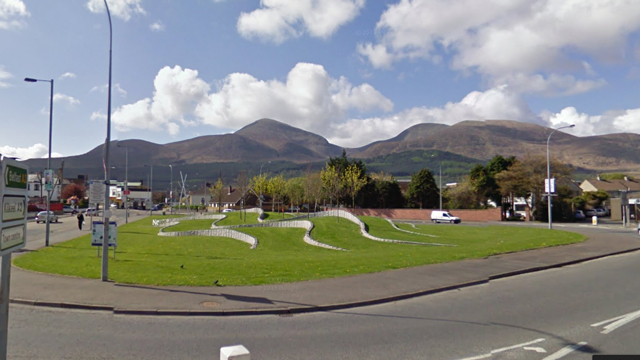 4. Dundrum Road, Newcastle
A choice that won't please the purists, as this is more of a triangleabout than a roundabout, but just look at the view..... Motorists travelling from both Dundrum and Castlewellan can marvel at this creation, replete with footpaths and public art, before finding themselves caught in the eternal traffic jam that doubles as Newcastle Main St. If the tourist cares to alight at this point they can pay a visit to one of Ireland's last remaining Xtravisions - a snap-shot in history where, legend has it, you can "rent" things called "DVD films", rather than just stream them illegally off of the Interweb.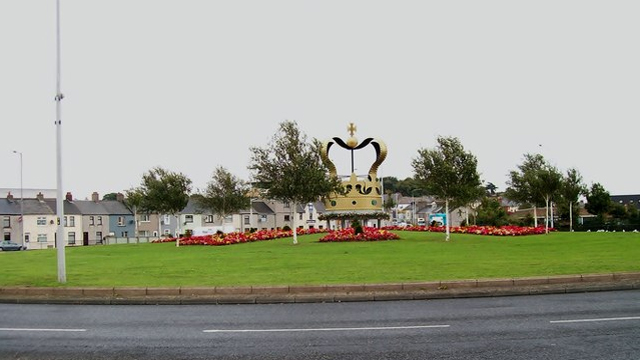 3. Circular Road, Larne
Possibly the most loyal roundabout in Northern Ireland, this spectacular traffic island includes a beautiful representation of the Queen's Crown. Originally erected to celebrate the jubilee in 2012, it is still there as the council hope it will offend some visitors. Apparently it is to be removed at the end of this year so tourists should book their trip to Larne soon to avoid not being disappointed. A little known fact about Larne is that Adolf Hitler planned to make it his capital if he successfully invaded the UK. Fortunately he failed, or we'd all be speaking Larne by now.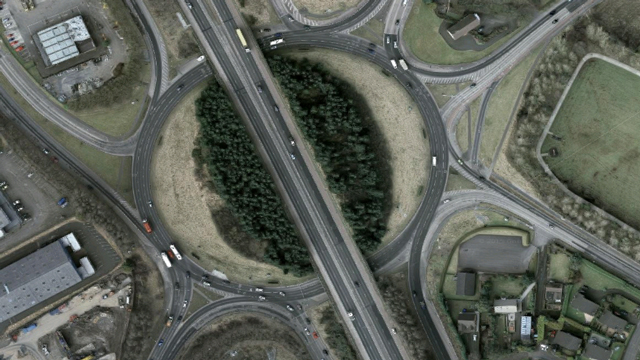 2. Sandyknowes, Glengormley
The grand-daddy of all roundabouts, Sandyknowes has been mentioned on every single Radio Ulster traffic report since 1923. From the air it is certainly a spectacular affair, reminiscent of a giant boke, accidentally deposited in the County Antrim countryside. The roundabout has traditionally proven popular with film-makers, so keen Game of Thrones fans may recognise it as the place where that dragon ate that woman with the diddies.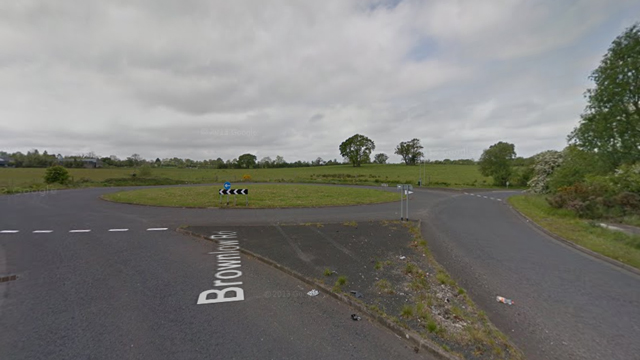 1. Brownlow Road, Craigavon
On any list of roundabouts of Northern Ireland, only one town can hold the number 1 spot. Craigavon is the only town in Europe to have more roundabouts than people, and this one on the Brownlow Road is a spectacular example. Described by one travel writer as "shit", the site includes a wonderful grey triangle of unkempt gravel, combined with shabby green interior. What makes it most special is the fact that it has only one way in, and one way out, which in effect makes it a very elaborate bend. A worthy winner of the title of Northern Ireland's Best Roundabout.
Which ones have we left out?
Lots, probably, but we couldn't be arsed making a top 20.
Comments
comments