The tense stand-off between Donald Trump and Lisburn and Castlereagh Council has reached "crisis levels" according to experts in international diplomacy.
President Trump had caused controversy during his election campaign by promising to build a wall around the city, and he has shocked observers by pressing ahead with the plan as soon as he got into the White House.
The Mayor of Lisburn was slated to be one of the first world leaders to meet the new US President, with talks planned next week, but the process has been thrown into disarray after Mr Trump tweeted that "if Lisburn is unwilling to pay for the badly needed wall, then it would be better to cancel the upcoming meeting."
This brought an instant reaction from Lisburn Mayor Bruce Field-Roundabout, who tweeted back "Yer hole we'll pay for the wall. We have bins to lift, ye veggie roll faced tub of boke."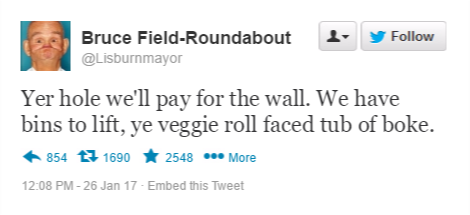 It is understood that the undiplomatic language used by Mr Field-Roundabout has led Defence Secretary James "Mad Dog" Mattis to order the US Sixth Fleet to sail from its base in Naples, Italy. Officials have already contacted Ards and North Down Council to arrange access to Strangford Lough, leading to fears that an all-out war may follow.
Despite this, the Lisburn Mayor is unwilling to back down. The Council's security level has been raised to 'Def-Con Wan' and the local Boys Brigade has been mobilised.
At time of going to press the area remains calm, amid rumours that nearly all of this is made up.
Comments
comments