The Pope and President Trump hit it off so well during their meeting last week that they decided to go on holidays together – right here in Northern Ireland!
The powerful pair also agreed to review some of our best known visitor destinations, exclusively for The Ulster Fry. We think it's fair to say that their faces tell the story….
1. The Pickie Park, Bangor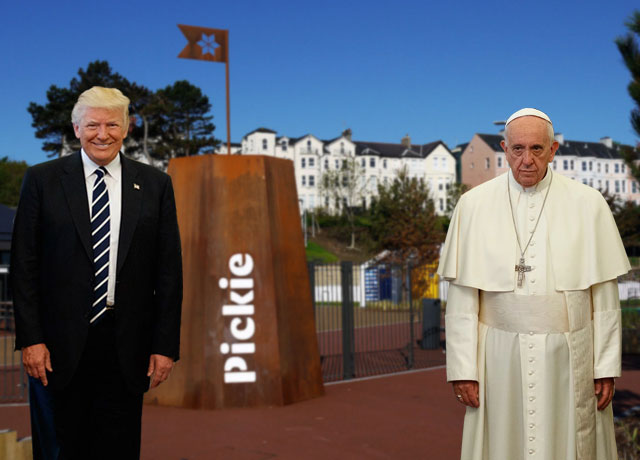 Trump: I enjoyed your Pickie Park bigly. I went on the Swans and the Disco Ducks, then had a poke on the little golf course. Not the first time I've done that I'll tell yis. Definitely on my list of places NOT to nuke during my presidency.
Pope Francis: I had very much looked forward to zis place, but my cassock got caught in zee wheels of zee Pickie Puffer train and I was left wiz my erse hanging out. I weel not be back.
---
2. The Giant's Causeway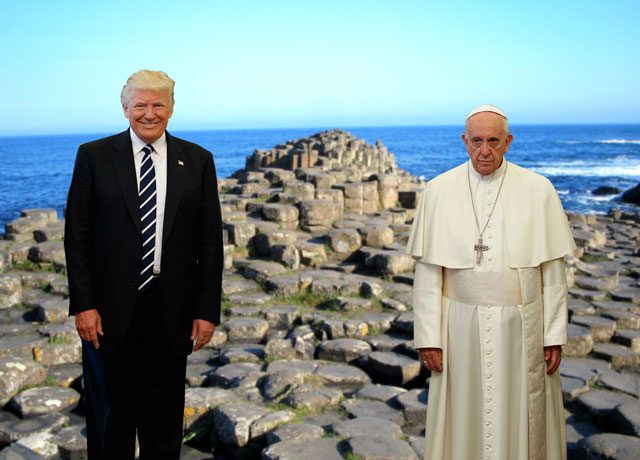 Trump: I loved your Giant's Covfefe. I haven't seen so many rocks since I was in the dressing room of The Apprentice with Gary Busey. Not so impressed with your Giant's Organ, it's nothing compared to mine. I mean, have you seen how big my hands are?
Pope Francis: Zis was sheet, just like your spelling, Meester President.
---
3. Titanic Belfast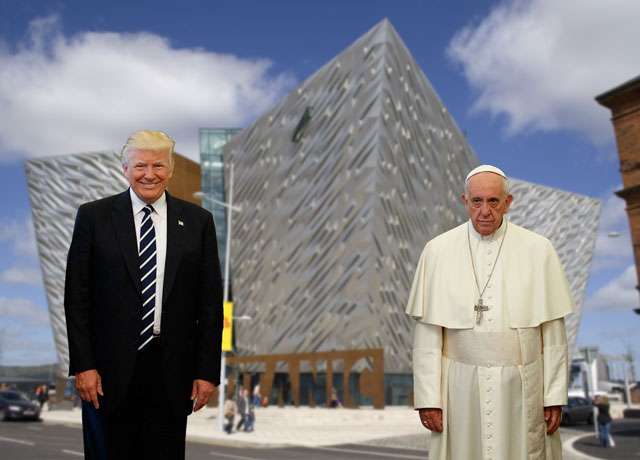 Pope Francis: It's a sheep, it sank, what eez so good about it? You even had zee number that spelt No Pope backwards on it? Now you all go an as if putting 1500 peeple on zee bottom of zee zee is as good as putting a man on zee moon. Yousuns are crezy.
Trump: Titanic – that's another word for bigly isn't it? Everyone all over the world knows about the Titanic, I like to think that my Presidency will be remembered in the same way as the Titanic.
---
4. The Craigavon roundabouts.
Trump: Wow, just wow! I can't wait to get home and tell Melania all about these roundabouts. Maybe even bring her back some of your local wine – this place should be on everyone's Buckfast list.
Pope Francis: I mean, for Jaysus sake. You reely bring me here? I would rather turn Free P than come back to zis place.
---
5. The Derry Walls.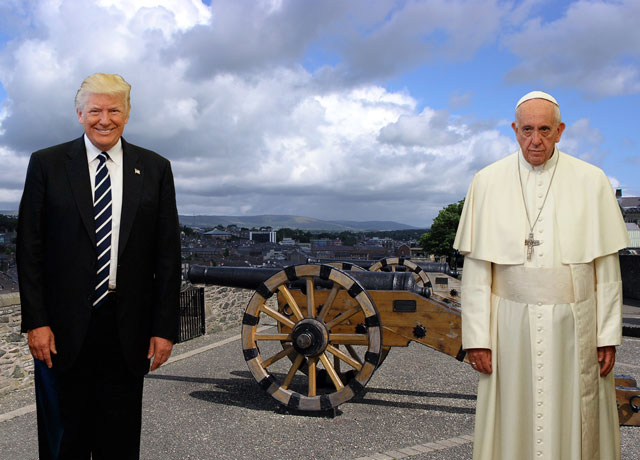 Trump: These walls are amazing, truly, although I saw lots of DL registrations on the cars inside so the Mexicans are still getting through. Even so, I really enjoyed my time in Derry.
Pope Francis: Don't you mean Londonderry?
Comments
comments